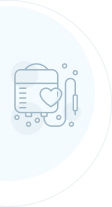 Urology,Andrology & Infertility
Highlights
Dialysis access surgeries, Stone clinic with PCL, URS &; Open surgeries
Prostate clinic with facilities for TURP / Open surgeries, Urodynamics
Endoscopic procedures & Laparoscopic surgeries
Infertility Clinic
Clinic with facilities for Laparoscopic & TUT procedures, Prosthetic implants
Treatment for Urology & Gynaecology malignancies
Overview
Welcome to the Urology, Andrology & Infertility Department at EMS Memorial Hospital & Research Centre. This department is dedicated to providing comprehensive care for all urological, andrological, and fertility-related concerns. Our team of experienced urologists, andrologists, and fertility specialists work together to provide personalized treatment plans for each patient. We use the latest diagnostic and therapeutic techniques to ensure accurate diagnoses and effective treatments. Our goal is to provide compassionate and effective care to help our patients achieve optimal health and well-being. Our specialities are:
Dialysis access surgeries, Stone clinic with PCNL, URS & Open surgeries: This department offers comprehensive care for patients with kidney stones, including minimally invasive procedures such as PCNL, URS, and laparoscopic surgery. Dialysis access surgeries are also performed here for patients with kidney failure who require dialysis.
Prostate clinic with facilities for TURP / Open surgeries, Urodynamics: The prostate clinic at this department offers diagnosis and treatment for prostate related conditions such as prostate enlargement and prostate cancer. TURP (transurethral resection of the prostate) and open surgeries are performed as needed. Urodynamics is also available for patients with bladder dysfunction.
Endoscopic procedures & Laparoscopic surgeries: Endoscopic procedures such as cystoscopy and ureteroscopy are performed to diagnose and treat urological conditions. Laparoscopic surgeries are also available for various urological conditions, including kidney and bladder cancer.
Infertility Clinic: The infertility clinic provides evaluation and treatment for male infertility and female infertility, including assisted reproductive technologies such as in-vitro fertilization (IVF) and intracytoplasmic sperm injection (ICSI).
Clinic with facilities for Laparoscopic & TUT procedures, Prosthetic implants: This clinic offers laparoscopic and TUT (transurethral) procedures for various urological conditions. Prosthetic implants such as penile prostheses are also available for patients with erectile dysfunction.
Treatment for Urology & Gynaecology malignancies: This department provides comprehensive care for urological and gynaecological malignancies, including diagnosis, treatment, and follow-up care. Treatment options may include surgery, chemotherapy, and radiation therapy.
Our Urology, Andrology, and Infertility department provides comprehensive care for a range of conditions related to the urinary system, male reproductive system, and fertility. Our highly experienced team of doctors, surgeons, and medical professionals are dedicated to providing personalized care and utilizing the latest advancements in medical technology and treatment methods. We strive to provide excellent medical care to our patients with compassion and respect, and are committed to improving their quality of life.
Doctors