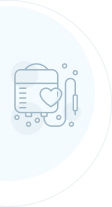 Dermatology & Dermatosurgery
Highlights
Chemical peeling
IPL therapy for hirsutism
PRP injections for Hair loss, Facial Rejuvenation & Treatment of Ulcers
Electrocautery & Radio frequency surgery
Phototherapy for Vitiligo & Dermabrasion
Intralesional injections
Paring and chemical cautery
Adolescent & Paediatric Dermatology, Acne Clinic, Psoriasis clinic
Comedo extraction
Iontophoresis for hyperhidrosis
Skin biopsy
Overview
The Dermatology, Venerology & Leprology department at EMS Hospital offers a comprehensive range of services for the treatment of skin, hair, and nail disorders. With state-of-the-art technology and experienced dermatologists, the department provides advanced treatments for various skin conditions, including acne, psoriasis, vitiligo, leprosy, and sexually transmitted infections.
Electrocautery & Radio frequency surgery are advanced techniques used to treat various skin growths and lesions. Intralesional injections are used to treat keloids, alopecia areata and other skin conditions.
Our Adolescent & Paediatric Dermatology, Acne Clinic and Psoriasis clinic provide specialized care for children and young adults. Phototherapy for Vitiligo and Dermabrasion are effective treatments for skin pigmentation disorders and scarring, respectively.
PRP injections for Hair loss, Facial Rejuvenation & Treatment of Ulcers is a non-surgical treatment for hair loss and skin rejuvenation. Comedo extraction is a manual extraction of blackheads and whiteheads. Iontophoresis is a safe and effective treatment for hyperhidrosis or excessive sweating
Skin biopsy is an important diagnostic tool used to identify skin diseases and conditions. IPL therapy for hirsutism is a safe and effective treatment to remove unwanted hair. Our team of dermatologists use the latest techniques and equipment to provide customized treatment plans to each patient, ensuring the best possible outcome for their skin, hair, and nail conditions.
IPL therapy for hirsutism or Intense Pulsed Light (IPL) therapy is a non-invasive treatment used to reduce unwanted hair growth caused by hirsutism. This treatment uses light energy to target the hair follicle, damaging it and reducing its ability to produce hair. IPL therapy can be a very effective and safe way to treat hirsutism, with minimal side effects.
Chemical Peeling is a simple & effective treatment for uneven skin colouring Acne,scars etc
The department also offers specialized services for adolescents and paediatric dermatology, acne clinic, and psoriasis clinic. With a patient-centric approach and personalized care, the department strives to provide the best possible treatment options for each individual patient. With its team of experts and advanced facilities, EMS Hospital is a one-stop destination for all your dermatological needs.
Doctors