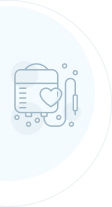 Nephrology & Dialysis Unit
Highlights
General Adult & Paediatric Nephrology
State of the Art Dialysis unit with 18 Haemodialysis machines.
Facilities for Haemodialysis and Peritoneal dialysis
Dialysis related procedures
Pre & Post Transplantation Clinic
Renal Biopsy
Hemoperfusion & Plasmapheresis
Dedicated Nephrology Intensive Care Unit
Overview
Welcome to our Department of Nephrology and Dialysis Unit at EMS Memorial Hospital, where we specialize in the diagnosis and treatment of kidney diseases. Our team of highly skilled nephrologists, nurses, and technicians work together to provide comprehensive care for patients with kidney problems. With the latest technologies and equipment, we offer state-of-the-art facilities for dialysis treatment, kidney transplantation, and management of chronic kidney diseases.
General Adult & Paediatric Nephrology: This department provides diagnosis, management, and treatment of all kidney-related problems in both adults and children. Some of the common conditions treated are chronic kidney disease, acute kidney injury, glomerulonephritis, nephrotic syndrome, and renal tubular acidosis.
State of the Art Dialysis unit with 18 Haemodialysis machines: The dialysis unit is equipped with the latest technology and state-of-the-art machines for providing haemodialysis. It is essential for patients suffering from chronic kidney disease who require regular dialysis sessions to remove waste and excess fluids from their blood.
Facilities for Haemodialysis and Peritoneal dialysis: The unit provides both haemodialysis and peritoneal dialysis facilities. Haemodialysis involves filtering the patient's blood outside the body through a machine, whereas peritoneal dialysis involves using the patient's peritoneum as a filter.
Dialysis related procedures: The department provides various dialysis-related procedures, including vascular access for haemodialysis, catheter placement, and peritoneal dialysis catheter insertion.
Pre & Post Transplantation Clinic: The pre and post-transplant clinic provides a comprehensive evaluation of patients for kidney transplantation. After transplantation, the clinic helps in managing the patient's immunosuppression, regular monitoring, and follow-up.
Renal Biopsy: Renal biopsy is a diagnostic procedure that involves obtaining a small sample of kidney tissue for microscopic examination. It helps in diagnosing various kidney-related diseases and conditions.
Hemoperfusion & Plasmapheresis: Hemoperfusion and plasmapheresis are advanced techniques used for treating patients with severe kidney disease, autoimmune disorders, or poisoning.
Dedicated Nephrology Intensive Care Unit: The department has a dedicated nephrology intensive care unit for managing critically ill patients with kidney disease, electrolyte imbalances, and other related complications. It provides round-the-clock care by a team of experienced nephrologists, dialysis technicians, and critical care nurses.
Our primary goal is to improve the quality of life of our patients by providing personalized care and treatment plans.
Doctors