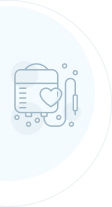 Department of Clinical Laboratory
Highlights
Haematology
Clinical Pathology
Biochemistry
Microbiology
Serology
Histopathology & Cytology
Overview
Welcome to the Department of Clinical Laboratory of EMS Memorial Hospital and Research Centre, where we provide a comprehensive range of diagnostic and laboratory services to aid in the accurate diagnosis and treatment of a wide variety of medical conditions. Our state-of-the-art laboratory is staffed by highly qualified and experienced professionals who utilize the latest techniques and technologies to ensure timely and accurate results.
Our Haematology tests are used for the diagnosis and treatment of blood disorders such as anaemia, leukaemia, and clotting disorders. Clinical Pathology tests help in the diagnosis of various diseases such as cancer, infections, and autoimmune disorders. Biochemistry tests are used to assess organ function and diagnose metabolic disorders such as diabetes and liver disease. Microbiology tests help in identifying and treating infectious diseases caused by bacteria, viruses, and fungi. Serology tests are used to diagnose viral infections such as hepatitis and HIV. Histopathology and Cytology tests help in the diagnosis of cancer and other tissue-related diseases by examining tissue samples under a microscope.
We are committed to providing the highest quality of care to our patients and work closely with our clinical partners to ensure that our services are tailored to meet their unique needs.
Doctors