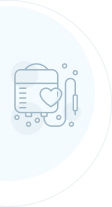 Paediatrics & Neonatology
Highlights
Well-quipped Paediatric ICU with most modern equipment
Well-equipped Neonatal ICU with most modern equipment
Surfactant therapy
Exchange transfusion
Well baby clinic & Immunization services
Treatment of Adolescent problems
Overview
Welcome to the Paediatrics and Neonatology department of EMS Memorial Cooperative Hospital and Research Centre, where we are committed to providing exceptional care for children from infancy through adolescence. Our team of experienced paediatricians and neonatologists work together to ensure that every child receives the highest quality of care.
Our Paediatric ICU is equipped with the latest technology and equipment to provide intensive care for critically ill children. We also have a dedicated neonatal ICU that offers advanced care for premature babies and those with complex medical needs. Our neonatal ICU team provides surfactant therapy, a treatment that helps premature babies breathe easier, as well as exchange transfusion for those with severe jaundice. Surfactant therapy is a specialized treatment for premature babies who suffer from respiratory distress syndrome (RDS), a common complication of premature birth. This treatment involves administering a liquid medication into the baby's lungs to help keep the air sacs open, making it easier for the baby to breathe.
Exchange transfusion is a procedure used to treat severe jaundice in new-borns. During this procedure, a small amount of the baby's blood is replaced with fresh donor blood to reduce the levels of bilirubin, the substance that causes jaundice. We have expertise in managing a wide range of conditions and diseases that affect infants and children, such as respiratory distress syndrome, jaundice, congenital anomalies, sepsis, and more.
Our well-equipped baby clinic offers a range of services to help parents care for their new-borns, including regular check-ups, immunizations, and advice on feeding and growth. We provide treatment for adolescent problems, such as acne, menstrual problems, hormonal imbalances, mental health issues, eating disorders etc.
At EMS Hospital, we understand that caring for children requires specialized knowledge and skills. Our team of paediatricians and neonatologists undergo regular training to stay up to date with the latest advances in paediatric care. We are committed to providing the most advanced and best treatment options for children, so that they can grow up healthy and happy.
Doctors