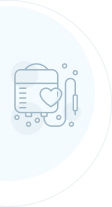 Radiology & Imaging
Highlights
1.5 Tesla MRI Scan with facilities for MRI cardiac Study, MRI Perfusion brain, MR Spectroscopy, Foetal MRI, MR Venography, MR Angiography, MR Cholangiopancreatography, MR whole Body, MR Mammography, MRI of brain, Spine, Knee, Joint, Shoulder joint etc.
Spiral Multi-slice CT Scan with facilities for CT Aortogram, CT Peripheral Angiogram Upper & Lower limbs, CT Urogram, CT Perfusion Brain, CT guided Biopsy & FNAC with Robotic assisted biopsy and normal studies
Colour Doppler study of Peripheral, Arterial & Venous Vascular flow abnormalities, Study of Portal hypertension, study of Mesenteric Ischemia and carotid vessels, study of Fetal Doppler visceral organs & vascular and carotid vessels, Study of Fetal visceral organs & vascular abnormalities etc.
4 D Ultrasound Scan with Colour Doppler
800 mA X-ray with II TV, 500 mA X-ray with computerized radiography
Overview
The Radiology & Imaging Department at EMS Hospital is equipped with state-of-the-art technology and highly skilled medical professionals to provide comprehensive diagnostic and therapeutic services. We offer a wide range of imaging services using the latest imaging equipment and techniques.
Our 1.5 Tesla MRI Scan is capable of producing high-quality images of the brain, spine, joints, and other areas of the body, aiding in the diagnosis of conditions such as tumours, stroke, and multiple sclerosis. Our MRI technology includes advanced features such as MRI cardiac study, MR spectroscopy, MR venography, MR angiography, and more. We also offer Foetal MRI to diagnose abnormalities in the developing fetus.
Our Spiral Multi-slice CT Scan is a fast and non-invasive diagnostic tool for evaluating a range of conditions such as CT Aortogram, CT Peripheral Angiogram, CT Urogram, and more. Our CT technology includes advanced features like CT Perfusion Brain and CT guided Biopsy & FNAC with Robotic assisted biopsy.
Our Colour Doppler study can assess blood flow in peripheral, arterial, and venous vessels. It can also be used to evaluate a range of conditions such as portal hypertension, mesenteric ischemia, carotid vessels, and evaluate fetal organs and vascular abnormalities.
We also offer 4D Ultrasound Scan with Colour Doppler for accurate diagnosis of fetal abnormalities and monitoring fetal development. Our X-ray equipment includes 800 mA X-ray with II TV and 500 mA X-ray with computerized radiography.
At EMS Hospital, we are committed to providing the most advanced and best treatment options to our patients. Our Radiology & Imaging Department is staffed by highly skilled and experienced medical professionals who use the latest technology to diagnose and treat a wide range of conditions. Whether you need routine imaging
Doctors