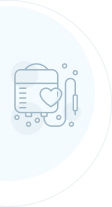 Neuro Surgery & Spine Surgery
Highlights
Surgical Management of Neuro & Spine Trauma
Tumour Surgeries
Vascular, Skull base & Cranio-facial surgeries
Interventional and Endo vascular procedures
Surgery for birth anomalies and cosmetic deformities
Specially Backache and Spine clinic
Non-invasive treatment option for neck pain
Low back pain and Upper back pain
Cosmetic spine surgery and Spinal instrumentation
Treatment for Spinal stenosis, infection & deformities
Well-equipped Neuro Surgical Level III advanced ICU with ventilators
Overview
Welcome to the Neurosurgery & Spine Surgery department at EMS Memorial Cooperative Hospital and Research Centre. We specialize in providing advanced surgical and non-invasive treatment options for a wide range of neurological and spine conditions.
We offer surgical management of neuro and spine trauma, including injuries caused by accidents, falls, and sports-related incidents. Our team is also experienced in performing tumour surgeries, including brain and spinal cord tumours. We provide surgical treatment for vascular, skull base, and cranio-facial disorders as well as interventional and endovascular procedures. In addition, we specialize in treating birth anomalies and cosmetic deformities, such as craniosynostosis and plagiocephaly. We are proud to have a well-equipped Neuro Surgical Level III advanced ICU with ventilators for patients requiring advanced postoperative care.
Our specially designed Backache and Spine Clinic provides non-invasive treatment options for neck pain, low back pain, and upper back pain such as physiotherapy, pain management, and medication. We also offer cosmetic spine surgery and spinal instrumentation to improve the appearance and functionality of the spine. Our team is well-equipped to provide treatment for spinal stenosis, infections, and other spinal deformities.
If you are suffering from a neurosurgical or spinal condition, EMS Memorial Cooperative Hospital and Research Centre is here to help. Contact us today to learn more about our services and to schedule a consultation with one of our expert surgeons. Our goal is to provide personalized and comprehensive care to each of our patients, using the latest technology and techniques in the field of neurosurgery and spine surgery. We strive to offer the best possible outcomes and help our patients return to their daily lives as quickly and smoothly as possible.
Doctors