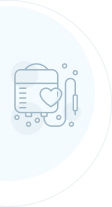 Ophthalmology
Highlights
Cataract surgery with Intra Ocular Lens implantation
PHACO surgery
Computerised Vision testing
Spectacle and contact lens clinic
Cosmetic surgeries and treatment for ocular trauma
A Scan and B scan facilities
DCR Surgery & Squint surgery
Glaucoma treatment and surgery
Lasik- refractive surgery
All eye injuries – 24-hour trauma care
Overview
Welcome to the Ophthalmology department of EMS Memorial Hospital and Research Centre, where we provide comprehensive eye care services to our patients. Our team of experienced ophthalmologists and support staff are committed to delivering the highest quality of care to ensure the best possible outcomes for our patients. From routine eye exams to complex surgical procedures, we offer a wide range of services to meet the needs of our patients. We use the latest technology and techniques to provide accurate diagnosis and treatment of various eye conditions, and our 24-hour trauma care ensures that we are always available to handle any emergencies.
Cataract surgery with Intra Ocular Lens (IOL) implantation is a common procedure for treating cataracts, which is a condition that clouds the lens of the eye and causes vision loss. The surgery involves removing the cloudy lens and replacing it with an artificial IOL, which can restore clear vision.
PHACO surgery is a minimally invasive surgical procedure for removing cataracts. It involves using ultrasound energy to break up the cataract into small pieces, which are then removed through a small incision in the eye.
Computerised Vision testing is a comprehensive eye exam that uses computerized technology to assess visual acuity, eye muscle balance, colour vision, and depth perception. It is useful for diagnosing and monitoring various eye conditions, such as refractive errors, amblyopia, and strabismus.
Spectacle and contact lens clinic provide patients with options for vision correction, including prescription eyeglasses and contact lenses. These options can correct refractive errors such as near-sightedness, farsightedness, and astigmatism.
Cosmetic surgeries and treatment for ocular trauma are performed to enhance the appearance of the eye area or to repair damage caused by injury. Procedures can include eyelid surgery, brow lifts, and treatment for scars or disfigurement.
A Scan and B scan facilities use ultrasound technology to produce images of the eye's internal structures. They can be used to diagnose various eye conditions, such as retinal detachment, tumours, or inflammation.
DCR Surgery & Squint surgery are procedures performed to correct a blocked tear duct or misaligned eyes, respectively. They can improve the patient's vision and quality of life.
Glaucoma treatment and surgery involve managing or removing excess fluid from the eye to relieve pressure and prevent vision loss. Treatment can include medications, laser surgery, or traditional surgery.
Lasik - refractive surgery is a procedure that uses a laser to reshape the cornea and improve vision for patients with refractive errors, such as near-sightedness, farsightedness, and astigmatism.
All eye injuries – 24-hour trauma care is available to provide urgent care and treatment for any eye injury, including cuts, burns, or foreign object in the eye. Rapid treatment can help prevent further damage and preserve the patient's vision.
At EMS Memorial Hospital & Research Centre's Ophthalmology department, we are dedicated to providing the highest quality of eye care to our patients. Our team of experienced ophthalmologists and support staff use the latest technology and treatments to ensure that our patients receive the best possible care for their eye conditions. Whether you need cataract surgery, treatment for glaucoma, vision testing, or any other eye care service, we are here to help. We take pride in our commitment to our patients and strive to exceed their expectations. Visit us for all your eye care needs and experience the difference in our personalized approach to patient care.
Doctors