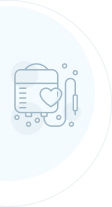 Paediatric & Neonatal Surgery
Highlights
All congenital neonatal anomalies
Paediatric laproscopic surgery
Paediatric bronchoscopy
Paediatric urology
Paediatric onco-surgery
24-hour trauma care
Cleft lip and palate repair
Dedicated Paediatric & Neonatal Surgery Intensive Care Unit
Overview
The Paediatric & Neonatal Surgery department provides comprehensive care for all congenital neonatal anomalies, including surgical interventions for conditions such as heart defects, gastrointestinal abnormalities, and spinal deformities.
All congenital neonatal anomalies: This refers to the surgical treatment of birth defects in new-born babies, including gastrointestinal abnormalities, and other congenital anomalies that require surgical intervention at an earlier stage for faster and better recovery.
Paediatric Laproscopic Surgery
Paediatric bronchoscopy: This procedure allows doctors to view the airways and lungs of infants and children using a flexible tube with a camera. It is used to diagnose and treat various respiratory conditions, such as chronic cough, asthma, and foreign body aspiration.
Paediatric urology: This is the surgical treatment of urological conditions in children, including congenital anomalies of the urinary tract, undescended testes, hypospadias, and other urological disorders. Early diagnosis and treatment can improve the chances of a successful outcome.
Paediatric onco-surgery: This refers to the surgical treatment of cancer in children, including solid tumours and blood cancers. Surgery may be used to remove the cancerous tissue and prevent the spread of cancer cells to other parts of the body.
24-hour trauma care: We provide emergency surgical care for paediatric and neonatal patients who have suffered trauma or injury. Quick and efficient surgical interventions can save lives and prevent long-term disability.
Cleft lip and palate repair: This surgical procedure helps correct a congenital deformity that affects the lip and/or palate. Surgery can improve the child's ability to speak, eat, and breathe, as well as their appearance and quality of life.
Dedicated Paediatric & Neonatal Surgery Intensive Care Unit: This specialized unit provides intensive care and monitoring for paediatric and neonatal surgical patients who require close observation and specialized medical attention. It is staffed by specially trained paediatric intensivists, nurses, and other healthcare professionals.
At EMS Memorial Hospital, we make sure that every child receives quick and effective treatment to keep them healthy and safe. We take good care of our younger patients and ensure a tension-free environment to help them feel better for faster recovery.
Doctors