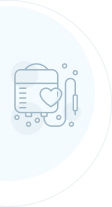 Plastic & Reconstructive Surgery
Highlights
Burns
Acute care burns-Intensive care
Prevention of contractures and post burn rehabilitation
Treatment of post burn contractures of neck, maxilla, elbow, hand, knee, trunk, and face (ectropion of eye lids, lips, etc)
Trauma - Acute facial and hand trauma
Congenital anomalies
Paediatric cases - Syndactyly, polydactyly, constriction bands releases, congenital nevus, haemangioma, neurofibromas, cleft lip, cleft palate, nasal deformity.
All Cosmetic surgeries
Breast lumps, excisions, reduction, retention, augmentation
Incision hernia repair and abdominoplasty
Tummy tuck procedures with muscle plication for pendulous abdomen
Body contouring, Liposuction, and lip contouring
Cheiloplasty (lip contouring)
Gynaecomastia surgery
Cosmetic gynecology and vaginal rejuvenation
Scars and scar revisions
Keloids and hypertrophic scars treatment
Cutaneous lesions & malignancies - excision and reconstruction
Aging face rejuvenation
Lymphedema - Surgery, liposuction, and therapy
Vascular malformations
Non healing chronic ulcer management pressure sores
Overview
Welcome to the Plastic and Reconstructive Surgery department at EMS Memorial Cooperative Hospital and Research Centre. We specialize in treating patients who have suffered from burns, trauma, congenital deformities, cancer, and other medical conditions that require surgical intervention. We also offer cosmetic surgery procedures to enhance the appearance of patients who wish to improve their physical features. Our highly skilled team is dedicated to providing the best possible care for patients with a wide range of conditions.
One of our key specialities is the treatment of burns. We offer acute care for burns and have an intensive care unit specifically designed to manage these cases. The department offers advanced and modern treatments such as skin grafting, tissue expansion, flap surgery, scar revision, and reconstructive surgery techniques to provide patients with the best possible outcomes. With well- trained and experienced personnel and state-of-the-art equipment, EMS hospital provides a comprehensive approach to diagnosing, treating, and managing patients conditions. Our team is experienced in preventing contractures and providing early post-burn rehabilitation, ensuring the best possible outcome for our patients.
We also provide treatment for acute facial and hand trauma, including reconstruction and repair of injuries cosmetically. Our paediatric cases include a range of conditions such as syndactyly, polydactyly, cleft lip and palate, and nasal deformities. We provide surgical treatments for these conditions to ensure the best possible outcomes for our young patients, with emaphasis on early functional recovery.
For those seeking cosmetic surgery, we offer the whole spectrum of cosmetic procedures including breast augmentation, abdominoplasty, gynecomastia,cheiloplasty and body contouring. Vaginal rejuvenation and cosmetic gynecology scar revisions, treatment for keloids and hypertrophic scars, and .
Our team has extensive experience in the excision and reconstruction of cutaneous lesions and malignancies, including lymphedema surgery, liposuction, and therapy. We also provide aging face rejuvenation treatments to help our patients look and feel their best. At EMS hospital, we provide the most advanced and best treatment options for our patients. Our plastic and reconstructive surgery department is equipped with the latest technology and our team stays up to date with the latest advancements in the field.
Doctors