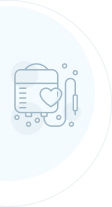 Obstetrics & Gynecology
Highlights
Fully equipped Labour Room and theatre facilities
Continuous Foetal monitoring facility
Management of high-risk pregnancies
Laparoscopy Surgery for Hysterectomy & Infertility
All type of open surgeries in Gynaecology
Painless labour on demand
Infertility workup
Overview
Welcome to the Obstetrics and Gynaecology Department at EMS Memorial Hospital & Research Centre, Kozhikode. We offer comprehensive and personalized care to women at every stage of their lives, from adolescence to menopause and beyond. We use the latest medical technologies and techniques to ensure the best possible outcomes for our patients.
Fully equipped Labour Room and theatre facilities: EMS Memorial Hospital & Research Centre provides fully equipped Labour Room and theatre facilities with the latest technology to ensure safe delivery and minimal complications for both the mother and the baby.
Continuous Foetal monitoring facility: The hospital has a Continuous Foetal monitoring facility, which helps in identifying any complications during labour, thus ensuring timely interventions and reducing the risk of any adverse outcomes.
Management of high-risk pregnancies: The department offers specialised care for high-risk pregnancies, including medical conditions like hypertension, diabetes, and multiple gestations, to reduce maternal and neonatal morbidity and mortality.
Laparoscopy Surgery for Hysterectomy & Infertility: Laparoscopy surgery is a minimally invasive surgical technique used for various gynaecological conditions like hysterectomy, infertility, and ovarian cysts. It offers faster recovery time and minimal scarring.
All type of open surgeries in Gynaecology: The hospital also offers all types of open surgeries in gynaecology, including myomectomy, ovarian cystectomy, and surgery for endometriosis, among others.
Painless labour on demand: The Obstetrics and Gynaecology department provides painless labour on demand through the administration of epidural anaesthesia, which reduces the pain and discomfort of labour.
Infertility workup: The department also offers infertility workup for couples who are having difficulty conceiving. The workup includes evaluation of the couple, hormonal tests, ultrasound, and semen analysis to identify the cause of infertility and plan appropriate treatment.
Our team of skilled and experienced obstetricians, gynaecologists, and support staff are dedicated to providing high-quality care in a compassionate and supportive environment.
Doctors