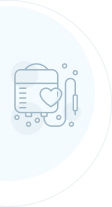 Orthopedics & Traumatology
Highlights
Round the clock Trauma Service
Latest instrumentation techniques for fractures
Joint replacements & Arthroscope Surgeries
Paediatric Orthopaedics & Deformity Corrections
Illizarov Surgery
Arthritis & Osteoporosis Management
Club Foot Clinic
Overview
Welcome to the Orthopaedics, Traumatology & Joint Replacement Surgery department at EMS Memorial Hospital, Kozhikode. We are dedicated to providing the best possible care for our patients with musculoskeletal conditions, including injuries and disorders of bones, joints, ligaments, tendons, and muscles.
Round the clock Trauma Service: The Orthopaedics department provides 24/7 emergency trauma services for patients with bone and joint injuries. Prompt management of fractures and dislocations can prevent complications and help patients recover faster.
Latest instrumentation techniques for fractures: The department uses advanced techniques and state-of-the-art equipment to treat fractures, such as internal fixation, external fixation, and minimally invasive surgery. These techniques provide better outcomes and faster recovery times for patients.
Joint replacements & Arthroscope surgeries: The department offers joint replacement surgery for patients with severe joint damage due to arthritis or injury. Arthroscopy, a minimally invasive procedure, is used for diagnosis and treatment of various joint conditions.
Paediatric Orthopaedics & Deformity corrections: The department provides specialized care for children with orthopaedic conditions such as congenital deformities, developmental disorders, and growth-related problems.
ILIZAROV Surgery: The department uses the ILIZAROV technique for the correction of limb deformities, limb lengthening, and non-union fractures. The technique involves the use of external fixators to gradually lengthen or realign bones.
Arthritis & Osteoporosis Management: The department provides comprehensive care for patients with arthritis and osteoporosis, including medical management, physiotherapy, and joint replacement surgery if needed.
Club Foot Clinic: The department has a dedicated clinic for the management of clubfoot, a congenital deformity that affects the shape and position of the foot. Early detection and treatment of clubfoot can help prevent disability and improve the child's quality of life.
Our team of experienced orthopaedic surgeons, trauma specialists, and joint replacement experts use the latest techniques and technology to deliver high-quality care and help patients get back to their normal life as soon as possible.
Doctors