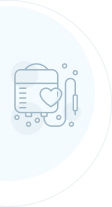 Dental & Maxilo Facial Surgery
Highlights
Trauma care management for facial bones
Facial cosmetic by orthognathic surgery
Dental implant prosthesis
Dental care for Elders & children
Minor oral surgical procedure including management of medically compromised patients
Orthodontics and Aligners
Diabetic gum care and periodontics
Rehabilitative and cosmetic dental therapy
Overview
Welcome to the Dental & Maxillofacial Surgery department at EMS Hospital, where we offer a range of services to ensure that our patients have the best possible dental and oral health. Our experienced team of specialists is equipped to handle a variety of cases, from routine check-ups to complex surgeries.
Trauma care management for facial bones: We provide immediate and effective treatment for facial bone injuries caused by accidents, falls, or other traumas. Our team of maxillofacial surgeons uses state-of-the-art technology and techniques to restore the appearance and function of the affected area.
Facial cosmetic by orthognathic surgery: We offer orthognathic surgery to correct facial irregularities and deformities, such as misaligned jaws, malocclusion, and other facial asymmetries. This can improve both the appearance and functionality of the face and jaw.
Dental implant prosthesis: Dental implants are a long-lasting and effective solution for missing teeth. Our team of dental surgeons uses the latest technology and techniques to provide patients with high-quality dental implant prosthesis, giving them a natural-looking smile and restored functionality.
Dental care for the elderly & children: We offer specialized dental care for both elderly patients and children. Our dental professionals have expertise in managing dental problems specific to these age groups, including age-related dental issues and paediatric dental care.
Minor oral surgical procedure including management of medically compromised patients: Our team of dental surgeons performs minor oral surgical procedures, including wisdom teeth extraction, dental biopsy, and the management of medically compromised patients. We use advanced technology and techniques to ensure a safe and successful outcome.
Orthodontics and Aligners: Our orthodontic services include braces and aligners to correct misaligned teeth and improve oral health. Our team of orthodontists is equipped with the latest technology to provide comfortable and efficient treatment.
Diabetic gum care and periodontics: We provide specialized care for patients with diabetes, including gum care and periodontal treatment. Our team of dental professionals works closely with patients to manage their oral health and prevent dental complications associated with diabetes.
Rehabilitative and cosmetic dental therapy: Our rehabilitative and cosmetic dental therapy services include tooth whitening, dental bonding, and porcelain veneers to improve the appearance and function of teeth. Our experienced dental professionals use advanced techniques and technology to achieve optimal results.
At EMS Hospital, our goal is to provide our patients with the most advanced and effective treatments for all their dental and maxillofacial needs. Our team of dental professionals is dedicated to ensuring that each patient receives personalized care and treatment, helping them achieve optimal oral health and a beautiful smile.
Doctors