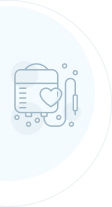 Anaesthesiology & Critical Medicine
Highlights
Most modern Anaesthesia Machines, Ventilators & Monitors
Post-operative Care unit with monitoring and Ventilator facilities
Resuscitation & Emergency services
Facilities for Invasive & Non-invasive Ventilation
International protocols and standards followed
State-of-the-art Equipment
Overview
At EMS Memorial Co-operative Hospital & Research Centre, we are proud to offer a wide range of cutting-edge technologies and services that help us deliver the best possible outcomes for our patients. From state-of-the-art Anaesthesia Machines, Ventilators, and Monitors to our fully equipped Post-operative Care unit, we are committed to providing the highest level of care to every patient who walks through our doors. In addition to our impressive array of equipment, we also offer a range of specialized services designed to meet the unique needs of our patients. Our Resuscitation and Emergency services are available around the clock, ensuring that we are always ready to respond quickly and effectively in the event of a medical crisis. We also offer facilities for both Invasive and Non-invasive Ventilation, allowing us to provide a wide range of treatment options to patients with respiratory issues.
Critical Care
EMS Memorial Co-operative Hospital & Research Centre is equipped with state-of-the-art critical care units to take complete care of our patients. We have set up fully equipped Intensive Care Units to take care of patients with general and specific conditions so that they receive the best of care and treatment.
Medical Intensive Care Unit
Coronary Intensive Care Unit
Cardiothoracic Intensive Care Unit
Pulmonary Intensive Care Unit
Neuro Medical Intensive Care Unit
Neurosurgical Intensive Care Unit
Paediatric Intensive Care Unit
Neonatal Intensive Care Unit
Surgical Intensive Care Unit
At our hospital, we take pride in following international protocols and standards to ensure that our patients receive the best possible care. This commitment to excellence extends to our Intensive Care Unit, which is staffed by highly trained professionals who specialize in a variety of specialty and super specialty departments.
Most-modern Equipment
Our Intensive Care Units are equipped with most-modern equipment made available to you at an affordable and accessible ways.
Multipara Monitors
Centralized Oxygen, Air, and Suction facilities
Infusion Pumps
Syringe Pumps
ABG Analysers
Alpha Beds
If you are looking for the best hospital with Anaesthesia or Intensive Care, you can trust our team of experts with years of experience, up-to-date knowledge, skills, and resources necessary to provide you with the best possible care. From the moment you arrive at our hospital, you will be treated with the utmost respect and compassion, and we will work tirelessly to ensure that you receive the care and attention you deserve. Rest assured of utmost care and experience the difference that our world-class facilities and services can make!
Doctors